"I aspire to inspire other beginning creators by giving them my edited files to use to build new things and create their own awesome edits." -Vile
Who is Vile?
Vile is a content creator who joined VRChat in August of 2018 and brought his first creation "The Villain Bar" into VRChat in December of 2019. He is known for his time spent as a Shigaraki role player in multiple MHA Role plays, his time spent leading the group Transformers Universal, and his revolutionary efforts in helping other established VRChat groups fight to change the toxicity in the Star Wars Community.
History and Biography
Vile started playing VRChat in 2018 as a Desktop user and later picked up an Oculus Rift S as a member of the gaming community "Transformers Universal". He then went on to host massive public lobbies of Never Have I Ever using a Shigaraki Avatar and established friendships with several creators such as BioCeaser and KingTodd. It was around this time where he would meet [ Bullet ] who used a Toga Avatar. They would go around recruiting villains. He built the Villain Bar as a base for his friends and as an attempt to impress the girl he liked. Several creators started taking notice from the My Hero Academia community and he started receiving invitations to join them as their official Shigaraki. Earning the title of the Villain King of VRChat.
This moniker would lead him to meeting his best friend Yostrider and several of his favorite avatar creators. In 2019, him and [ Bullet ] would go their separate ways and he would leave the my hero role plays over disputes, but he never lost his feelings. At this time, it was common to find him drinking in full body in a Void Club instance. According to Vile himself, it was Yostrider who found him and helped him overcome his sadness which led them to meeting in real life. Filled with rage and wanting to find his lost friend [ Bullet ] that he felt he drove away, he would start creating several new maps that were hits among Anime and Transformers fans alike. He would never find her nor would any of his friends and fans, but it was when he made her favorite anime "Cowboy Bebop" into a world that he first started becoming popular. In 2020, Vile would leave Transformers Universal over disputes and joined the Star Wars Community where he was ostracized and demonized by the larger groups for sharing his work in their servers.
He went on to spend his time making worlds and avatars as commissions in VRCTraders and working on helping to change the toxicity in the Star Wars community by uniting several groups who were tired of the bad image on the community and shaping a new one. Some of these groups included: The Crimson Collective, Protogen Labs VRC, Furry Coalition, Knights of the Galactic Empire, Star Wars: Mystery of the Force, The Mandalorian Creed, Saiyan Nation, and his server "The Shadow Collective." However, due to disagreements, he and the original founders of that alliance were pushed out from their own server and demonized by larger groups like the Clones who put out a series of announcements about how Vile and his server were crasher and hacker groups and that their intentions were to spread viruses and cause chaos. This being Vile's final breaking point, he would upload all of his public content to VRCMods , replace all his worlds in the game with a island holding a monument to himself killing a clone and a message saying that he had left VRChat and went on to create for ChilloutVR. His legacy is one of anger, heart break, constant fighting, bringing people together, and fighting corruption in his own aggressive way.
On 9/11/2021, Vile returned to VRChat uploading and remastering 10 of his old maps and was given a former apology from the Star Wars Community as well as having his name cleared by them. He restored several old friendships and started the Mega Man Community of VRChat alongside Leon0000. He has been the main map creator for Transformers and Mega Man Content and has hugely supported diversity and Creativity among his peers. (Although being a tad bit hostile at times) He also made a Deviant Art Page where he posts his personal projects. Along with this, the Star Wars Community returned him as owner of the Interstellar Alliance.
Personality
Aggressive, confrontational, straight forward, passionate, creative, open minded, and uplifting. Empathetic, but when his trust is taken advantage of, will enter a blind and destructive rage.
List of Notable Map Creations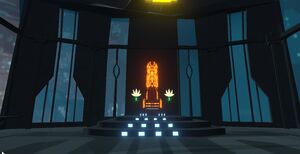 Iacon City
Transformers History Museum
Sea Of Rust
Maccaddam's Old Oil House
Book Of Boba Fett
The Villain Bar
The Mandalorian Bar
Kaon
Mandalore
Mega Man X: Jakob Elevator
Mega Man X Dive: Hub
Mega Man X: Central Highway And several more
Trivia
Vile has created over 170 public avatars and 16 public worlds
Vile has created over 30 Commissions for VRChat users with a variety of mixed reviews.
All his Transformers Maps were meant to be private for just "Transformers Universal" until he left after serving their group for 10 years
His name is based on a character he relates to. Vile.
Vile was the first to create the Villain Bar, Yakuza Hideout, and the first creator of an open world Zelda map
Due to his past, he hates talking about Anime and refuses to be friends with anyone from those communities except a chosen few dragon ball fans.
Links: