Welcome to VRChat Legends Wiki!
You've found us! Here you can add the lore of VRChat's most interesting individuals and groups. For new editors please scroll down if you wish to join us or have any questions.
Looking for something? Search here!
Here on the VRChat Legends Wiki we focus on the lore and legends surrounding the in-game characters, personas and groups - often but not exclusively related to roleplaying. This wiki does not focus on the technical or developer aspects of the game. For support of the game please visit VRChat.net.
Featured
Would you like to contribute?
Anyone can join us in contributing to the Wiki! In order to edit, first you need to create a Wikia account. Before posting we ask you to read our rules. Basically uphold Wiki decency and keep the established standard by looking at previous articles. If you feel uncertain you can always ask other editors.
Posting or editing means that you agree to our Rules and Community Guidelines
Remember that Wikis are evolving documents and a collaborative effort of multiple people. Articles should focus on the VRChat personas, not IRL, be informational and educational. Please respect the privacy of the real people portraying the characters and personas. Do not post personal or private IRL information like birthdays or photos, the wiki is not a blog.
Some articles are protected from vandalism. In order to edit them you need to ask for moderator permissions. To get moderator permission please join our Discord channel, introduce yourself and ask. You can also leave a comment in this discussion post.
If you're completely new to editing Wikis don't hesitate to ask for help.
Article writing tips


Put yourself in the mindset of someone reading the article for the first time.
Can people quickly find the information relevant to what they're looking for?
Can unnecessary info be moved out into a separate article?
Does the article use formatting and headers similar to previous articles?
Is something already covered in a separate article that you can link to instead?
Stay factual. Writers should not make up information or leave personal opinions.
Make it clear if something is out-of-character (not roleplay), or save it for the Trivia section.
Respect the integrity and private life of the real people portraying the characters.
You can find further writing tips in the Template:Cleanup.
Featured Lore Page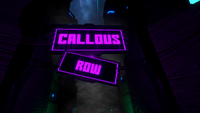 Callous Row is a roleplay group and world created and lead by
Arcadum
. The RP centers around a cyberpunk world taken over by mega corporations similar to
Shadowrun
.
Magic was recently discovered and is creating discourse across the world. The RP takes place in the slums named "Callous Row", located in the shadows of a giant city.
Read More...
Click here to view previously featured pages
VRChat Historians Discord
Feel free to join our Discord where the editors of this wiki gather! Here you can share your thoughts and feedback in discussions or how to make this wiki even more amazing.

Please note that mobile users cannot see this widget, can only be viewed on desktop site.If you see this, your JavaScript might be disabled or DiscordIntegrator plugin isn't working. If the latter, please contact a wiki administrator.
Community content is available under
CC-BY-SA
unless otherwise noted.