VRChat Kmart is an online community based around the group of worlds in VRChat recreating the American discount store chain Kmart.
World History
VRChat Kmart started off as a real store location that opened in the mid-1980's. The store was located in New York state in the United States, and later became the store that Ericirno would become employed at in 2015. Starting his career as an electronics department manager he grew a quick attachment to the store. Using his past 3D modeling knowledge with the program Sketchup he began designing his store, using floor tiles as measurement and adding more as he went. By the time his store closed in 2018 he had a low-poly, void-of-merchandise version of his Kmart.
Around 2017 Ericirno started becoming interested in VRChat. He created the "eboy" avatar he is seen in today and began involving himself in the community. In 2019 he decided to finally make a map after one of his friends showed him their custom world. He decided what better to start with than a 3D model he already had, so he took his SketchUp Kmart and threw it into Unity.
On October 21st, 2019 the VRChat Kmart Main Store had it's soft opening as a "sleepover" map. The store only had bare, low poly fixtures and a video player as the PA music in store. This version of the store was documented in this clip from Ericirno's live stream. The Eatery Express in the store was eventually replaced with a Kmart Café featuring Little Caesars due to popular request.
On December 19th, 2019 the Kmart Express store opened to both PC and Oculus Quest players to experience Kmart. The store was a third of the size of the main "VRChat Kmart' world and only took up ~20 MB. Today the world is around ~40 MB with almost everything the main store has such as a K Café Express and Portrait Studio.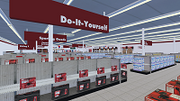 In March of 2020 VRChat Kmart celebrated it's real world counterpart's 58th anniversary in VRChat by throwing a small party and activating the store's "retro mode" which puts the building into a 1970's era reskin.
To stick with the timing of real world Kmart's "greatest era" the store is stuck perpetually in the year 1992. Sales in the stores match on time with the cassette tapes uploaded to archive.org by Mark Davis. The sales witch between weekly and monthly depending on the time of year. Seasonal updates also occur such as Halloween and Christmas versions of the store where decorations will be put up across the store.
Community History
The VRChat Kmart Community resides in their Discord server. Established in September of 2019 as a server for Ericirno's friends, it slowly merged into the official VRChat Kmart Discord as it became more popular. Remnants of the old server theme can still be found as the server's name is still celled "ThinkHub" and references to ThinkPad themes can be found in channel categories. The server appears much smaller to the public than to associates, who get access to additional channels the more training they do.
The group often will film recreations of Kmart commercials directed by Ericirno, who uploads them to his YouTube channel. These commercials vary from any era from the early 1970's to late 2000's.
The community often does events for associates and the general public.
Avatars
Around Christmas of 2019, an avatar creator by the name of Burezu approached Ericirno to bring new associate avatars to Kmart. His avatars, later dubbed "The Burezu Miko Collection," would be the start of many kinds of Kmart avatars. Eventually other avatar creators noticed the pedestals popping up and wanted to have their avatars sold in Kmart. Partnerships between Ericirno and avatar creators began to have VRChat Kmart Exclusive brand avatars (such as Jacklyn Smith or Martha Stewart were to the real world Kmart stores.)
Today there are many varieties of avatars in Kmart available to the public. Kmart branded avatars range from Y-Bots to Roombas to dog girls and more. VRChat Kmart encourages their associates to create custom avatars for themselves and provides custom assets in their Discord server for creators.
Social Media
VRChat Kmart has many social media outlets both under their name and under the CEO's name. Commercials created by the community get uploaded to [YouTube channel]. VRChat Kmart's official Twitter account posts frequently about world updates, events, and in store promotions.
Media Content