What is The Great Pug?
The Great Pug is a public establishment found within the metaverse/land of polygons of VRChat. It is a popular and familiar destination for many VRChat players.
It hosts many patrons and serves all those who come through its doors. Everyone from anime avatars, aliens and robots are welcome.
Exiting the bar takes the player to an unlisted world on the city streets outside and that of a competing bar named The Winchester.
In RP, Roflgator was once a franchisee and manager of the Great Pug. The Calzone mafia, headed by Don Vinchenzo whom was also the landlord, would attempt to muscle out Roflgator. Roflgator would eventually take back the Pug, but his Pug would burn down after a gas leak.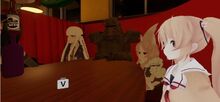 Trivia
Links
Gallery
References