The re-imagined Golden Gator and Bricktown was re-created by "Rob" Roflgator in June 2020 marking a return to the past in a re-opening of the old "Golden Gator" bar.
Since June 22nd 2020 the bar has its own subreddit on Reddit where viewers of streams can post clips, events, artwork and things related to the bar or members of The Gator Crew.
The Golden Gator
Part ownership of the bar is currently shared between Roflgator, TheBigMeech, Jor Rilla and MurderCrumpet.
The opening ceremony was flagged with several concerns, complaints and strange occurrences.
Employee change history
Former employees
On the re-opening Roflgator made wild demands that all previous employees would have to reaffirm their place once again and that he was going to fire anyone who messed up during the trial period. At the start the following were re-hired but would all end up being fired before closing the bar.
A mute lapse in sanity
Before closing for the night Rob made a strange decision to fire all non-mute employees in order to make the establishment an all-mute-employee bar. When firing everyone he strangely apologized that he would inevitably have to beg everyone to come back to work and save him again someday soon.
Jor Rilla standing his ground protesting against all keeping of personal mutes with possibly no pay at all. He proclaimed that "Mute Lives Matter" and reiterated that they shouldn't be treated like slaves but although being a part-owner Jor got outvoted by the majority with Meech not being present.
Even Lanfear came to speak in favor of the non-mutes but before listening to reason the establishment closed for the night.
All-mute roster of employees
MurderCrumpet still remains as manager. The New all-mute roster of employees consists of the following:
Replacing the mute crew for french maids
On July 14th 2020 the many in the crew were replaced for maid equivalents.
Roflgator's resignation and Evil Arc
On Aug 7th 2020 Roflgator resigned his position as the bar manager and handed over his shareholder ownership to MurderCrumpet leaving only Jor Rilla, Meech and MurderCrumpet as the current owners. Changing his focus to take over The Big Loads moving company as a front for his new evil endeavors to create discourse in Bricktown.
Further info: Roflgators Council of Evil
With Crumpet now being the majority share-holder, the bar was renamed to 'The Crimson Crumpet' and the map was updated by Sn0wBreeze to reflect this.
The evil council would later formulate into starting a competing establishment named The Golden Gato - a Neko Cafe.
Customer history
Unwelcome customers
Contrary to The Royal Gator this re-imagined bar retained the strictest anti-loli policy of all time, enforcing the ban Jimi was shooed outside to the protests of Ladle. Her letters of complaints were to be directed at the "complaints dropbox" situated in the fireplace. Ladle later attempted to smuggle Jimi inside the bar but were were kicked out on the streets again when caught.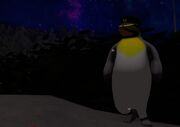 A baby penguin (portrayed by Ruthless Ruby) appeared that was claimed to be Krispy Creed and Wooks baby. Being of diminutive stature they were shooed outside along with Jimi and her mother asked to return inside to resume earning money for the bar.
Welcome customers
SciFri had another date with Bolivardi that went poorly until they discovered that the Swamp was intact and moved their date over there.
Rosalind and Twin Swords were on a date at the re-opening. Afterwards Swords was asked how he would rate the event, and gave it a 5/5 star rating.
Two apparently "hyper conservative" guests, one named Abbey (LynnieXO) and a devout man (Mute Max) were hosted visiting the bar. As they were being served the devout man complained about the establishment and started praying, with S0ra being pushed to join their prayer and the mission to located some ice cream for them.
Tormented by his desires at seeing succubi like Blu_Haze Rob asked the devout man to help him get rid of his "sick succubus desires" which he agreed to do.
Crake turned up, seemingly with a working voice modulator having contracted some form of virus, feeling insulted with others assuming his pronouns he made a scene. He also complained about Wooks not getting a mechanical keyboard for his desk and there not being a knife available for Zager, and began leading an uprising of protesters. To settle him down he was asked what would satisfy him, to this he ordered for bartender Spellboy to be killed, DontMindMee almost went along with it but stopped himself.
Stage and performers
Featuring a stage area with a catwalk, a separate piano performance wing as well as a small stage for shows or comedy. R3dzDead seated himself at the piano to perform at the re-opening.
Trivia
Twitch Clips
Clips from June 2020 re-opening day
Gallery
June 2020 Re-opening gallery
Various Gallery
References