Kelli Siren is a classically trained singer in VRChat.
History
Her main avatar and character is an Egyptian siren who she uses to lure victims into her oasis. She is also commonly seen as Jessica Rabbit, who is a siren in her own right. She likes to seek out new friends and people to sing to in VRChat.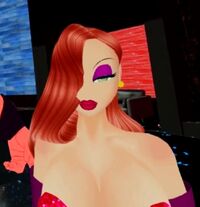 Roleplaying Characters
Jessica Rabbit
Inspired by Jessica Rabbit from the movie "Who Framed Roger Rabbit?"
Kee'Ra Diamond
Kee'ra Diamond - The owner and singer at a brothel in Callous Row.
Prof. Lorelei Bliss

Lorelei Bliss is a tielfing that arrived in Ascension Academy to teach defense against the darkness and enchantment.
Links
Gallery
Community content is available under
CC-BY-SA
unless otherwise noted.