Firebox Blue is a coy full body mute that can often be seen dancing at The Golden Gator. Known for her ASMR hand movements and RP-walking she often participates in Roflgators hosted events and game shows at his bar.
Please remember that events described in this article are roleplay and acting. Actions done in-character do not reflect on the actual person portraying the character!
History and Biography
Started becoming a regular in Gatorcrew lobbies in April 2020.
Established themselves as a top-tier mute when they won two Mute Pageants back to back, on April 24th and May 18th 2020. They would team up with Meech for the next mute pageant (mute charades) but lost to DrunknDuncan and CrazyMango.
Following the new Bricktown president AskJoshy's win, all mute contracts were dissolved on July 2nd 2020, and the mutes were allowed to choose a new partner. Firefox Blue chose Blu Haze as her new partner instead of J4KEY, her former partner. After a few days however Firefox would return to J4KEY, reforming their bond.
On August 21st 2020, Firefox split ways with Rob and his evil council as she wanted to "run away" with Surefour, who also left the Murder Misfits.[1] They rekindled their broken bond and signed a new contract again on Aug 26th 2020 after the opening of The Golden Gato - Neko Cafe.
Being hesitant at first she was convinced by her friends to start streaming and held her first stream on Aug 30th 2020.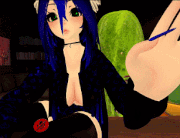 Trivia
Very attached to Blu Haze and the pair can often be seen together.
MurderCrumpet is one of Firefox Blue's earliest friends. One day on a boat, MurderCrumpet created a secret password that locked Firefox from ever speaking again unless Crumpet says the password. He forgot, but Firefox remembers and she became a mute ever since.
Known for her mesmerizing hand motions (visual ASMR), face touches and excellent VR walks.
Skilled in "RP Walking" with her full body tracking. The trick is to walk in a circle within your VR playspace without making it noticeable.
A regular participant in Mute Adventures
Links
Social Links
Twitch Clips
Gallery
Screenshot gallery
Artwork gallery
References