"Why are you like this?" - Doomvor
About
Doomvor is a casual roleplayer, opting to be in very few communities.  He has a habit of being mute a good portion of the time and thus communicates via inordinate hand gestures and body language.
Outside of the Communities
Doomvor tends to be mute the majority of his time in VRChat, typically in a purple Kemono Friends grey wolf avatar.
Groups
During his time in the following groups, Doomvor portrayed himself as a very unbending person with a very serious attitude and was thus perceived as fairly strict and mean, very rarely showing any emotion other than irritation and seriousness.
Allied Waifu Battalion
Apr 2018 - Apr 2019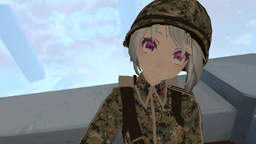 The first community Doomvor joined, with zero knowledge of waifu groups in general at the time, Doomvor devoted himself to the community as head of TALOS (military police) and worked to improve it, doing his utmost to keep the community safe, attempting to revamp the overall system to allow more organization and structure.  He achieved the rank of LtGen during his tenure in the AWB, once the leader (I Am Shooketh) left the community, leaving it in the hands of Macjam, Doomvor continued to work under Macjam.
Allied Waifu Marine Corps
Apr 2019 - Jul 2019
Doomvor continued his work as head of TALOS during his time in the AWMC, attempting to ensure that the community was a safe place for the people that were apart of said community, Doomvor continued to devote a lot of his time to this community until a disagreement with how something should have been handled led him to retire from the community in July of 2019.  He was promptly banned three weeks later for "reasons"
Allied Waifu Battalion
Jul 2019 - Oct 2019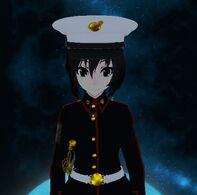 Doomvor rejoined the AWB shortly after his ban from the AWMC at the invitation of its leader "I Am Shooketh".  Although just after receiving his ban from his previous community, he was rather hesitant to join headfirst into another community and opted to participate as a civilian for a few months before deciding to enlist. He was enlisted as a Warrant Officer and provided light moderation/organization for the community. Opting to show up to things every once in awhile rather than dedicate himself to the community like he did with the AWMC in the past, as he vowed to never put a community above his friends ever again. The AWB has since re-branded and moved away from VRC, opting to bring their community to other games
Communities
Doomvor portrays himself in the following communities in a serious, judicial manner, upholding the values of the community.
Allied Waifu Military Core Industries
Aug 2019 - Current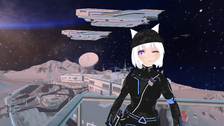 Doomvor founded the community alongside its leader Evoxy, with the intention of creating a development community.  He was approached by Evoxy and was asked to help her with this endeavor, he obliged and enlisted into the community as a Warrant Officer (military police), he built the discord they currently use, providing security and organization for the community since its founding.  He is currently the director of SHIELD.
Trivia
Doomvor is a pseudo-mute, opting to not talk more often than not.
Strictly military police/security experience.
Extremely blunt way of speaking.
VRChatter since Q4 2017.
Former Cyber Security Specialist.