Compared is a young streamer, known as Astra Derora on twitch, full of energy. Her famous line at the end of every stream being "I hope this made you smile and made your day at least a little bit better." Her main avatars are reskins of a Holo Avatar model or a small demon avatar, the one most used being an avatar she calls Astra Derora. She also happens to rp as Astra a lot on and off stream.
About
Compared is a 20 year old female who has a sweet heart and kind soul, both of which are always shown on her streams. She always shows concerns for her viewers and friends.
Formerly a competitive singer in high school. She is often heard humming songs on friends streams when in an extremely good mood.
Relationship
Compared is in a healthy relationship with Adorakitty. The ladder of the two will sometimes join her streams or watch as support to show his love.
Content
Compared streams on Twitch as Astra Derora and posts videos on Youtube as Astra. Never caring how many people follow her on either so long as she knows she is making someone smile. She streams many games such as VRChat and Minecraft. Starting to play more horror games on VRC as she keeps streaming.
Alternate character personas
Trivia
Compared has her moments where she says some fun quotes

Purple is not a favorite color, its a way of life!!!
Haha, English
Stop trying to fuck me!

Responds to Mama Cat
Is called Ari (RE?) on occasions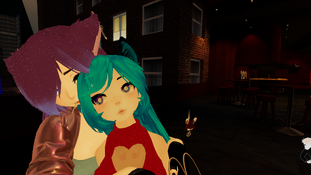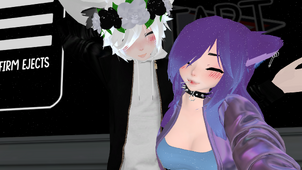 Gallery