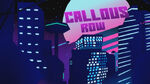 This article lists the various characters who participated in the Callous Row RP for season 1 in a thumbnail gallery for easy navigation to viewers. For the most recent list of characters please see Callous Row Season 2 Characters.
External Link: Callous Row Twitch Stream Team
For YouTube channels, social etc, see each characters respective article.
Notice: A recap of all events so far can be found in the Rook, Jack Montagne and Loch articles.
Character Gallery
Former Characters Gallery
Most Retired characters are able to come back on any season, assuming the player wishes to bring them back.
Gallery