What is Battle Discs?
A public world that can be accessed within VRChat.
Battle Discs is a game that puts players in an arena through 1v1 or 2v2 duels using discs. The first player or team to achieve five points wins the match.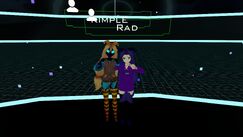 Trivia
It's quite similar in gameplay design and mechanics to Disc Wars on Tron, don't you think?
Rad is very skilled at Battle Discs.
It seems that Kimple is the Battle Disc Queen and was even advertised on a poster in the Times Square map. She was the winner of the first tournament.
Much like real sports, Battle Disc has it's fair share of risks involved, as Rolfgator, Kimple's 'brother', injured his hand during it, and broke his controller.
Gallery