"I heard gay?" - Avery, moments after being summoned.
About
Avery is the former Lieutenant Colonel and head of the T.A.L.O.S. guard until he retired in May of 2021. Before his time in the AWMC, he was not interested in Waifu communities due to having no knowledge of them before his embarking on the path with the community he spent his time with.
Groups
Avery decided to spend his time within the following groups, spending the majority of his time there. During his time in the first group, he allowed the group to consume his life, consuming his every free moment, until he eventually managed to pull away and be himself once again. After this, he vowed to not repeat this mistake if he ever joined another group.
Allied Waifu Marine Corps
Jan 2019 - May 2021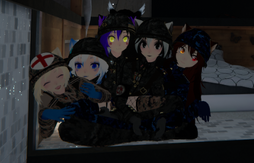 Avery joined the former AWB in late January of 2019 after being invited by DerpFluffu. Spending his first weeks as a private in the 901st Blue Lanterns before it was dissolved. Moving onto the 7th Ghost Detachment and helping DerpFluffu run the squad till Epyon3001 took the position of assistant squad lead. From which Avery switched to the T.A.L.O.S. Company under former LtGen. Doomvor alongside Evoxy and Jacket913. Even after T.A.L.O.S. suffered from the later loss of LtGen. Doomvor, Avery continued to help the company alongside CWO5. Savox. Both working together to develop the company to train dozens of new Warrant Officers. Avery ending with a total of 21 bans by the time he retired despite not being proud of all of them. Avery peacefully retired in May of 2021 after burn out and issues with command.
Waifuwehr
Aug 2021 - Present
After a break, Avery accepted the offer to enlist in the Waifuwehr and found himself joining the logistic battalion. He now does his best to help out using his prior experience and to make himself an useful officer in the group.
Where is Avery now?
Following Avery's retirement, for the most part he lingered around on VRChat and remained a civilian in some communities, before eventually enlisting in the Waifuwehr.
Trivia
Collector of memes
Fun-loving
Over-protective
Both sides of the table are equally good